A Guidebook for Dementia
and Alzheimer's Family Caregivers
At last! The ultimate compilation of important facts and everyday wisdom  to empower family caregivers to thrive not just survive.
It's been called everything from a lifesaver for family caregivers to an "outstandingly clear and useful book that helps families care for individuals with dementia …" One enthusiastic reader said "I wish doctors and nurses would read this and talk to their patients in such clear language."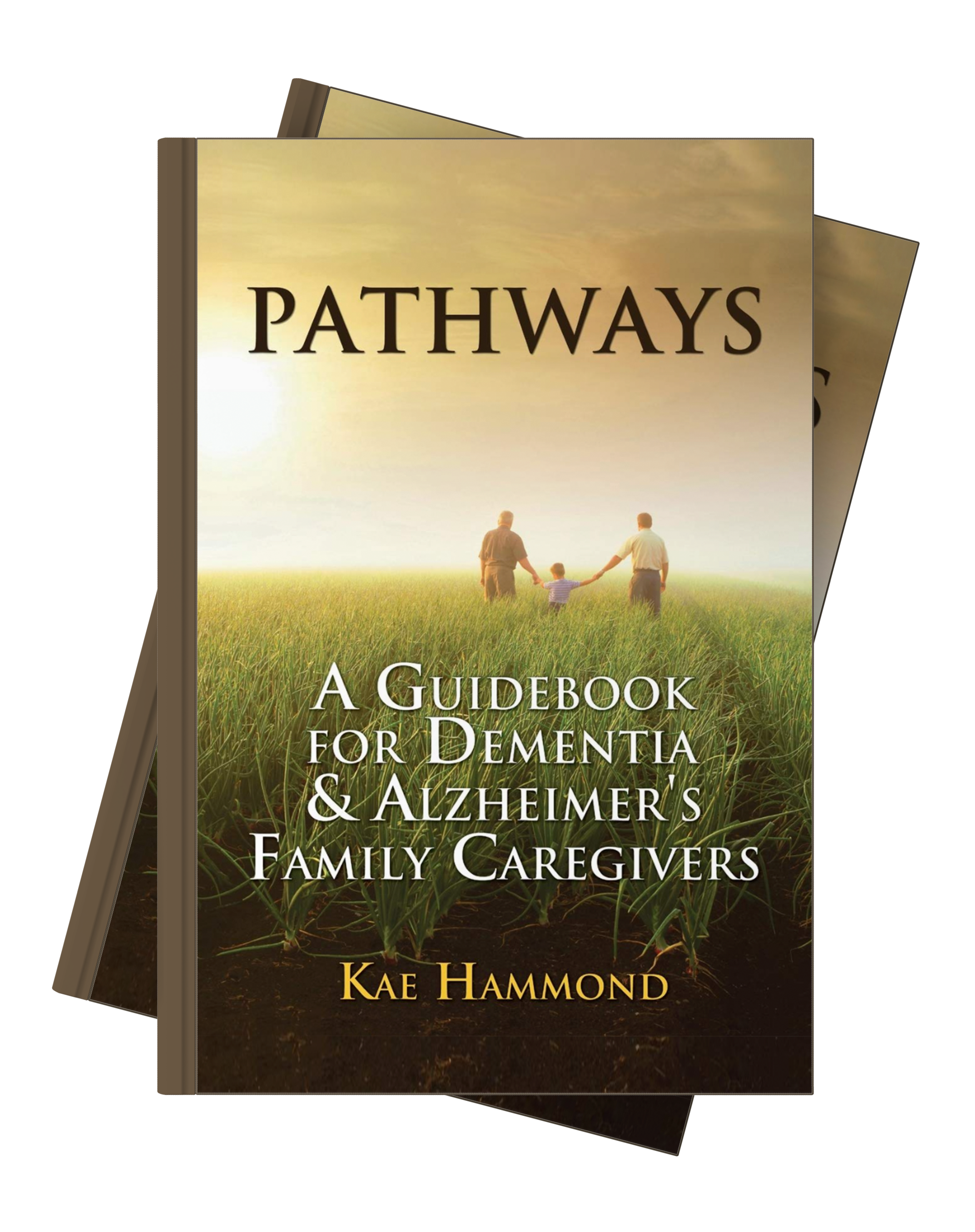 When it comes to helping family caregivers, author Kae Hammond wrote the book. Pathways — A Guidebook for Dementia & Alzheimer's Family Caregivers — has received tremendous reviews including an impressive five stars on Amazon. An aggregation of authoritative, practical and applicable information, the book will save you time, precious energy and money.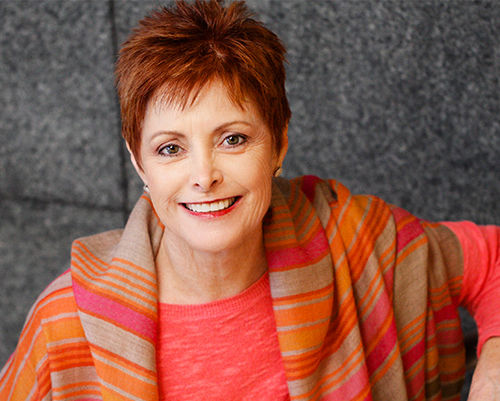 Kay Hammond
DHC Founder and Author
Kae walks alongside you until you walk on your own.
From start to finish, Kae Hammond gently guides you through the labyrinth of scenarios, offering down-to-earth, practical advice to help you handle the day-to-day as you seek to resolve longer-term decisions. Both human and heartfelt, practical and spiritual, Pathways is written from the perspective of someone who — beyond all doubt — has walked the same path as you. Once you begin to gain momentum, you'll start to see light at the end of the tunnel and know you truly are not alone.
Be proactive. Learn all you can.
Though you may want to "run for the hills," the message is clear: be proactive. As the author says, "fear cripples; knowledge enriches …" Strive to elevate your quality of life as well as that of your diagnosed family member. With fact-driven, heartfelt counsel, you are urged to learn about your loved one's disease and what to do as it progresses through the stages.
Pathways teaches you everything from the disease's characteristics and behavior patterns to management strategies such as developing near-and-long-term plans, finding legal and financial resources, exploring end-of-life choices and much more.
Whether you discover how to "interact with tact" as you provide care, communicate with love, patience and acceptance, redirect your loved one to diffuse conflict or simply acquire the ability to keep your sense of humor, a world of valuable information awaits. 
Because these diseases are slowly developing and insidious in nature, they can surprise you as you comprehend the reality of their progression. Alzheimer's and related dementias can change a personality, incite rage, aggression or hallucinations, and eventually destroy the brain cells that enable a functioning existence. Yet by arming yourself with knowledge and understanding, you'll learn how to find your way with compassion, understanding and patience.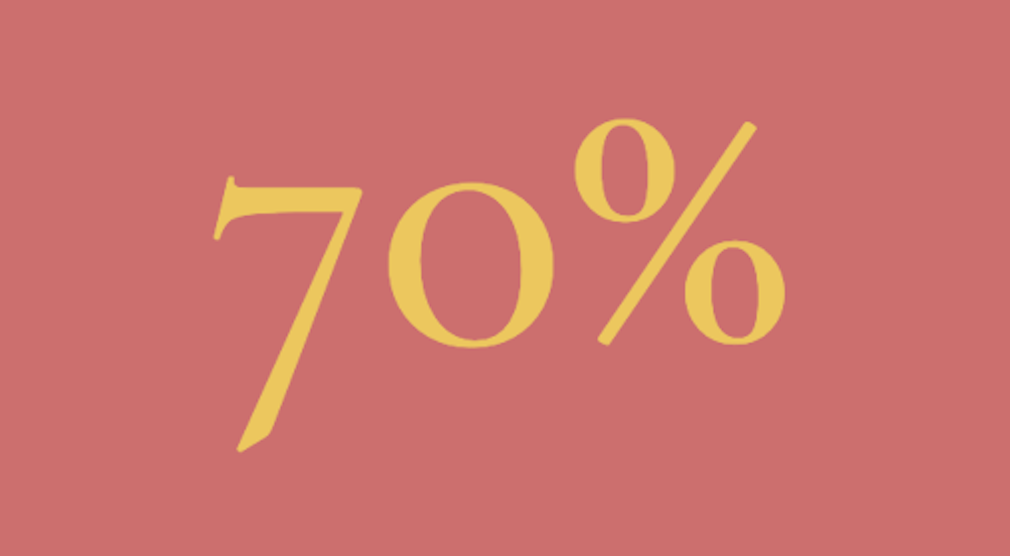 According to the National Alzheimer's Association, 70 percent of family caregivers develop a life-altering, chronic condition or die before the diagnosed loved one for whom they care.
That is simply astounding. Don't become a statistic. It's time to take care of yourself, and we'll show you how.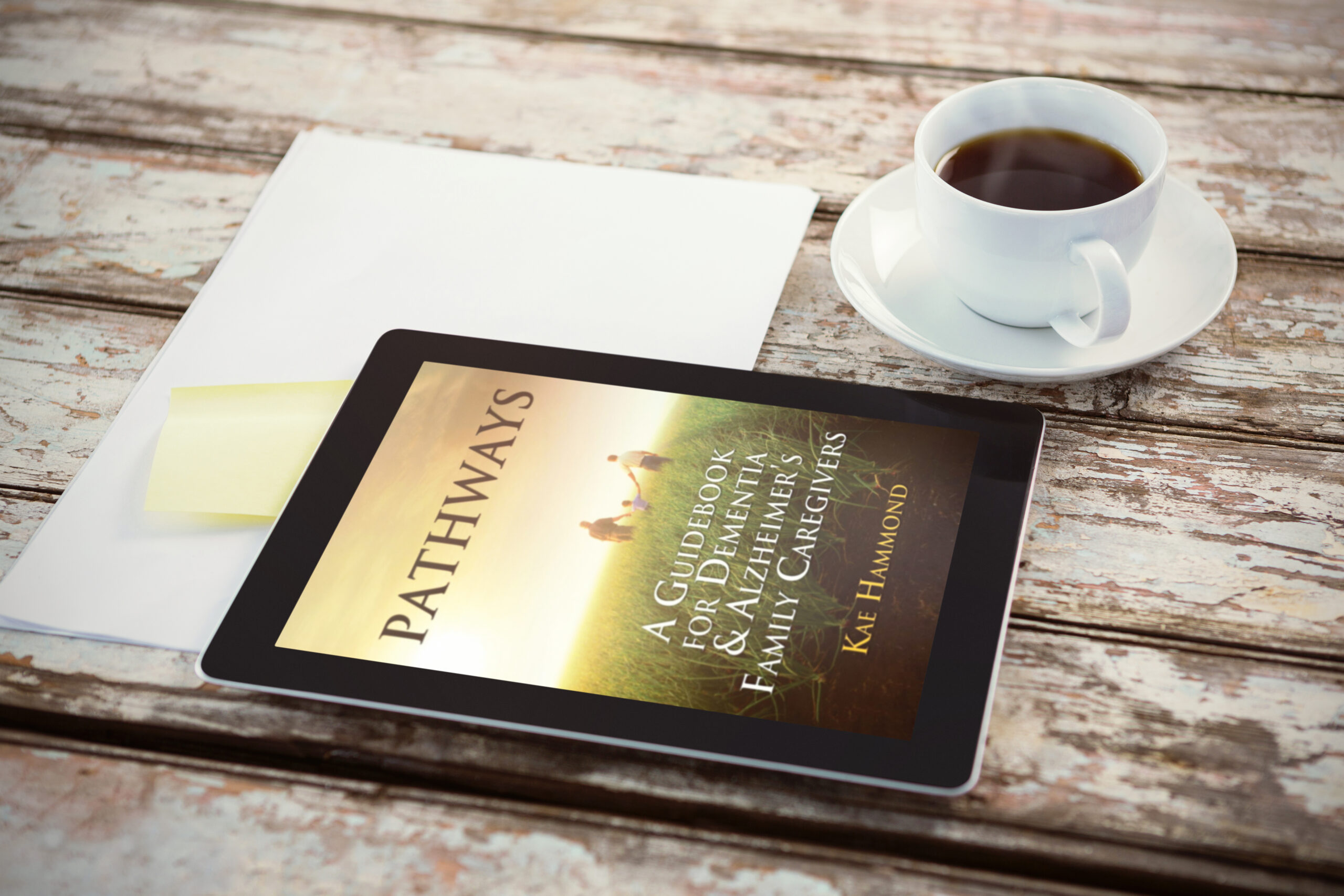 Responsive, lifesaving solutions at your fingertips.
Born of the author's quest to research, investigate and evaluate the mind-numbing yet fragmented pieces of information about Alzheimer's and related dementias, and make it all accessible in one place, Pathways was an idea whose time had come. Better still, author Kae Hammond completed the circle by addressing the multitude of unanswered questions with myriad practical, lifesaving solutions for family caregivers.
Where do you begin? The "L's" have it.
As the Pathways guidebook recommends:
Learn
Learn everything you can about the disease your loved one is suspected of having or that doctors have diagnosed. Draw upon the knowledge and experience of the professionals in the world of dementias and Alzheimer's. Read their books and visit their websites.
Live
Live in the present and come to embrace it. There are no good diseases, yet there are many years ahead of you and your loved one to enjoy. These are progressive diseases, so starting now, take full advantage of the mental and physical abilities your loved one has and go forth.
Link
Link with other family caregivers through support groups. No one will 'get it" or support you like they will; nothing you ever say will shock or surprise them. A strong group will keep you accountable to yourself and that's just what you need to thrive through this ordeal.
Laugh
Laugh together at the funny, sometimes crazy, things that happen as a result of your loved one's skipping memory
Listen
Listen to your body; it never lies. There is already one victim in this disease; don't let there be two. You deserve to thrive, not just survive.
Love
Love, patience and tolerance will be redefined by this disease. You will have to forget your assumptions and always be bigger than the situation.
I have known Kae Hammond for over ten years, she is a very dedicated person and is involved with patients who have Alzheimer's/dementia.
She applies the same the dedication and passion in providing services to patients who are diagnosed with Alzheimer's/dementia, services that a beyond the ability and scope of treating physicians.
These services include, but are not restricted to, assisting patients and their families to face the reality of Alzheimer's/dementia.
The many issues that families have to deal with include psychological issues, legal and financial issues etc. Most families are in shock when they are given the diagnosis of Alzheimer's/dementia and they need emotional as well as social support including how to navigate the various problems (mainly social ones) as their loved ones deteriorate over time. She is also very successful in helping family's deal with placement services appropriate to the situation.
She also acts as a go between so that patients are referred to Adult Protective Services or other health services when appropriate.
These are invaluable services that a practicing physician does not have time to address.
She is very passionate about helping patients with Alzheimer's/dementia and I have found her to be an invaluable resource to turn to.
I wish her well in the future.
Ivor J. Nazareth MD MRCP
Consulting Neurologist
May 20, 2022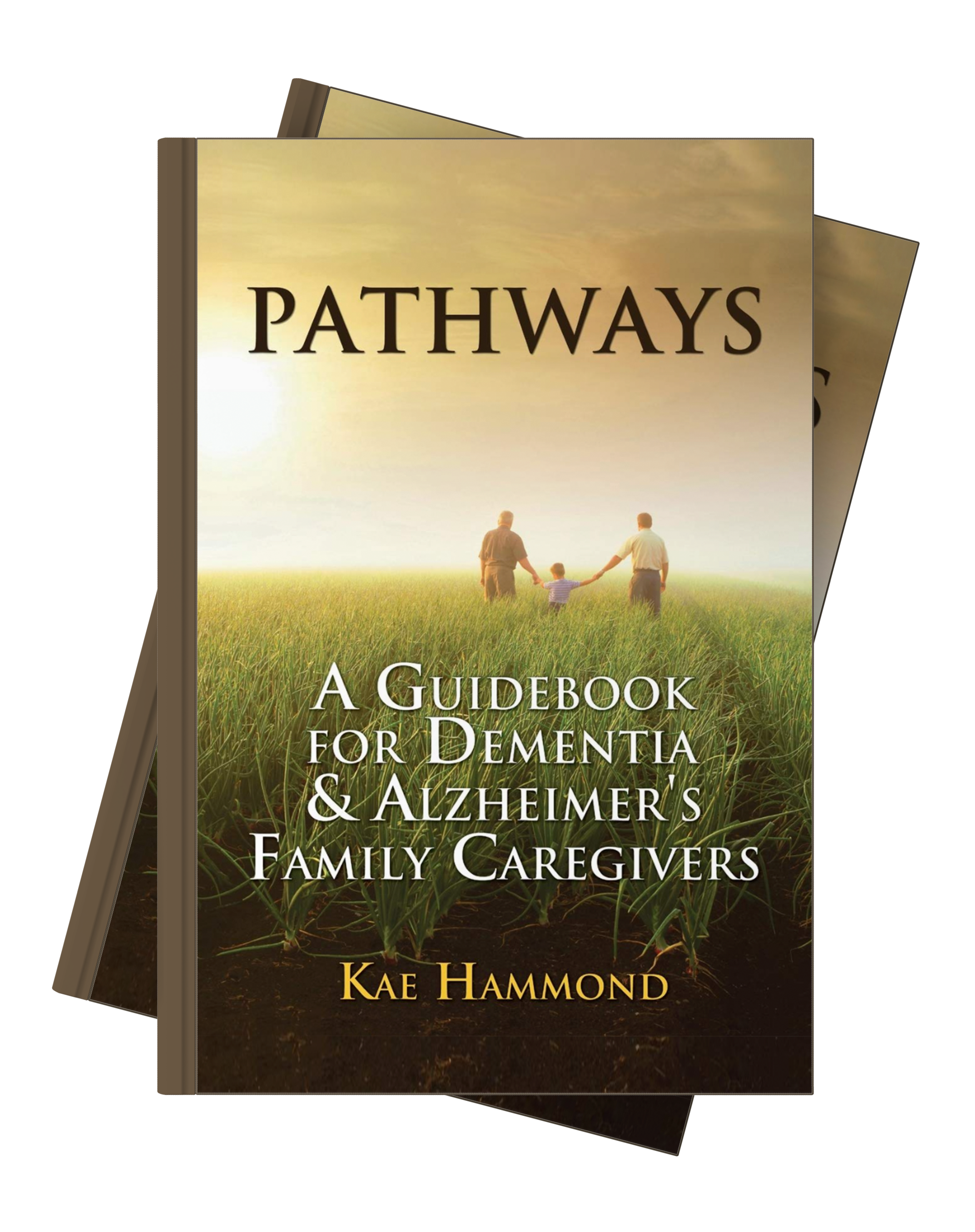 Challenged to find the guidance she needed to help her family and care for her mother, Kae Hammond embarked on a quest to research, investigate and evaluate the vast amounts of information concerning these diseases. Her results are now at your fingertips.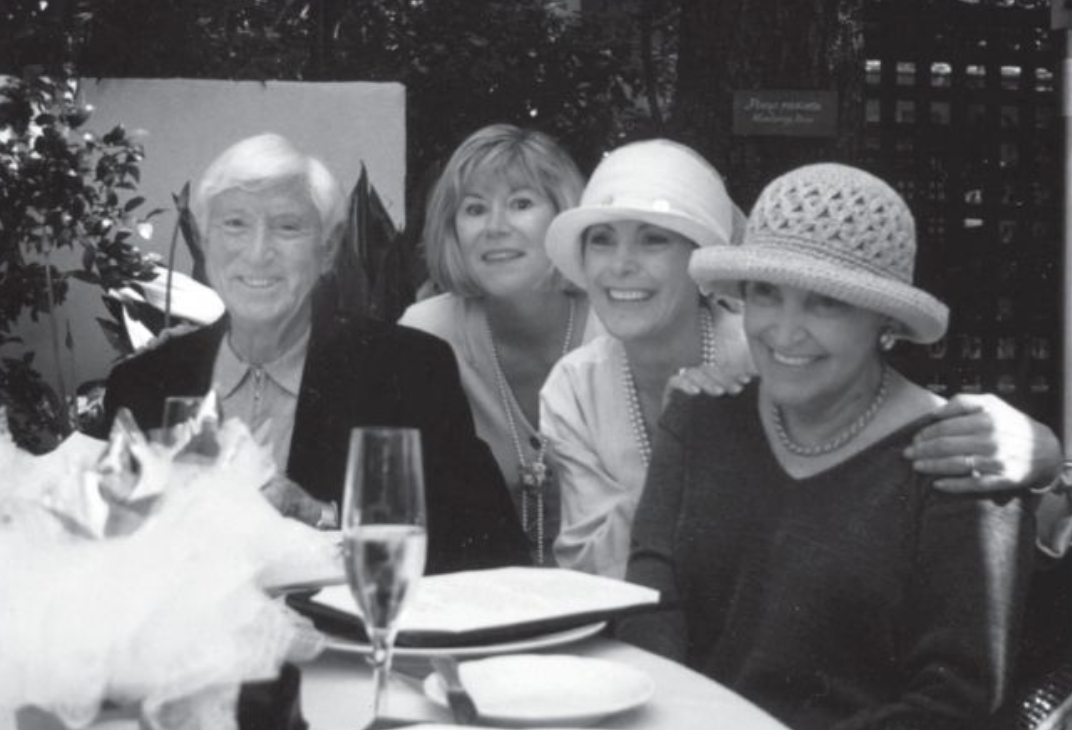 Kae and her parents, celebrating their 50th wedding anniversary on April 24, 1998.