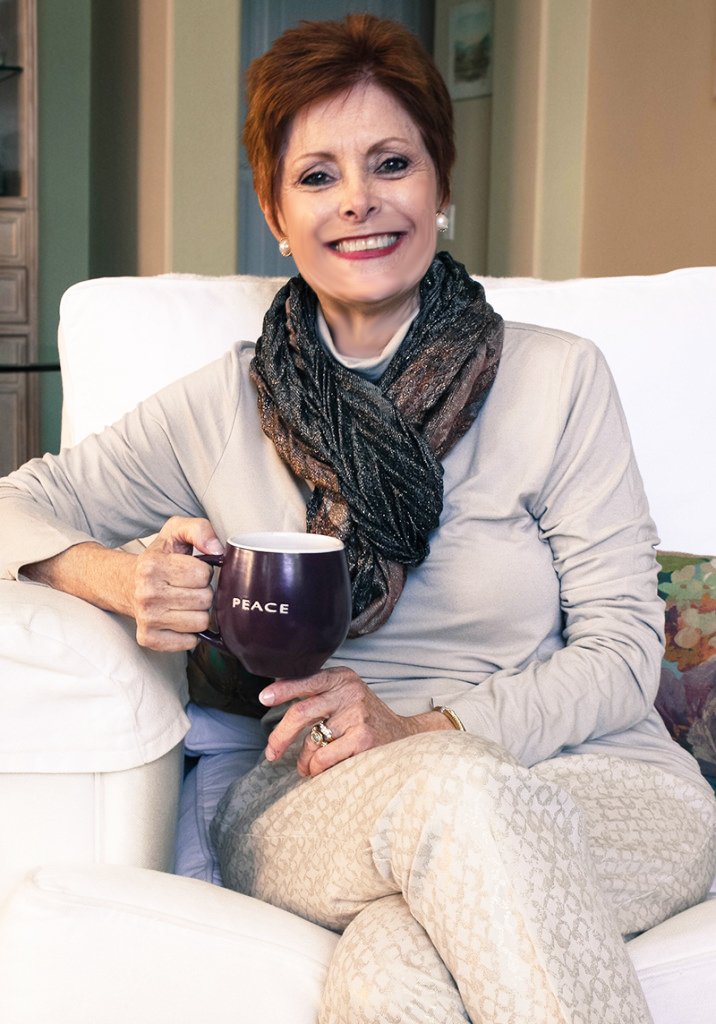 A Story About Caring
Kae is often asked about her famous Cup of Peace she is holding. Here's the story she shares with pleasure.
"I have my Cup of Peace every day. This is both literal and figurative. Many years ago while caring for my husband after a serious automobile accident, my dear friend Carole Isola came to visit. It was such a welcome visit as I was juggling family health, business and life challenges along with being a care partner.
Carole ran out to do an errand and returned with a gift for me! A mini-book on Zen and a beautiful ceramic cup in a rich, deep purple with the word Peace pressed into it in both English and Chinese. I was convinced I was masking my life pains quite well, but Carole obviously saw my true state clearly. Her gift was two-fold. She not only gave me something beautiful, she also acknowledged my struggles.
I can honestly say that holding my Cup of Peace every day soothed my soul. That was more than 12 years ago. I still have my book of Zen prayers by my bedside and enjoy my cup every morning. Thank you, Carole!
Now, I invite you to find your Cup of Peace and take your daily moments to love and appreciate yourself."
— Kae
Pathways is the book that can help you today!
When it comes to helping family caregivers, author Kae Hammond wrote the book. Pathways — A Guidebook for Dementia & Alzheimer's Family Caregivers — has received tremendous reviews including an impressive five stars ★★★★★ on Amazon! An aggregation of authoritative, practical and applicable information, the book will save you time, precious energy and money.
It's been called everything from a lifesaver for family caregivers to an "outstandingly clear and useful book that helps families care for individuals with dementia …" One enthusiastic reader said "I wish doctors and nurses would read this and talk to their patients in such clear language."